TENTS & CAMPING QUESTIONS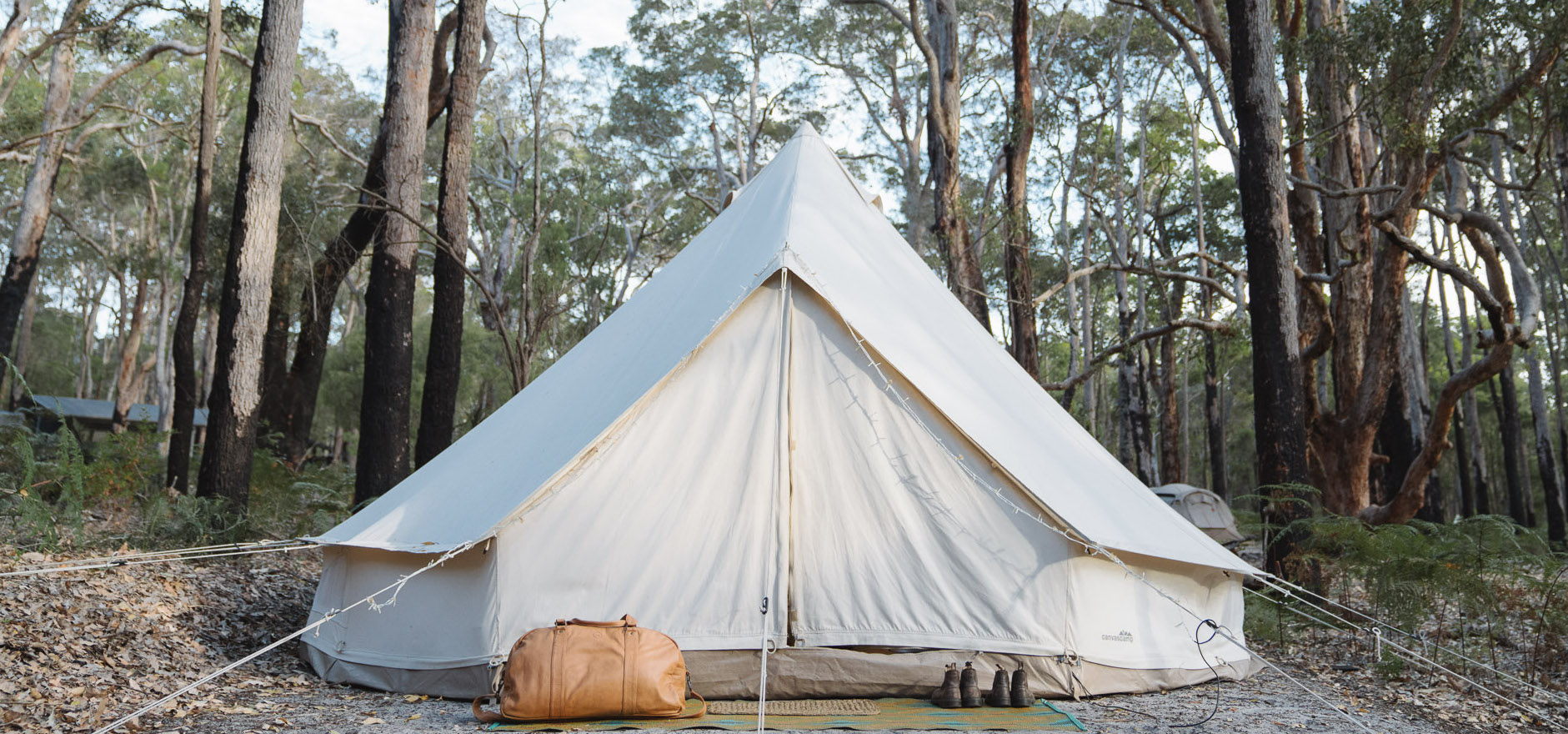 ARE THE TENTS WATERPROOF?
YES! OUR CANVAS BELL TENTS HAVE weathered THE WORST STORMS THERE ARE DOWN HERE, WITHOUT LEAKING A DROP!
DO we have to put AND PULL DOWN the tent up ourselves?
NO! ALL THE SETTING UP OF CAMP IS DONE BY US. JUST ARRIVE AND GET STRAIGHT INTO RELAXING.
WHEN YOU LEAVE, JUST ZIP THE TENT UP AND GET ON YOUR WAY.
What size tent do i need?
how many glampers are you booking for?
our 4-meter tent seeps up t0 3…
our 5-meter tent sleeps up to 5…
but the bigger the tent the more palatial your glamPing experience ;)
I want to have power in my tent - how do i get this?
You will need to choose a location that has powered sites. These include Prevelly, gracetown, taunton farm, yallingup, hamelin bay and big valley campsites. They exclude dpaw campgrounds and fair harvest.
what type of mattresses do you use?
We use foam queen size mattresses (150mm) and inflatable single mattresses (on the ground). We have stretcher beds used with self-inflating mattresses (off the ground) available on request.
WHAT ARE THE TENTS FURNISHED WITH?
We furnish OUR TENTS with QUEEN-SIZE mattresses and/or Single mattresses, pillows, duvets and fresh white linen, towels, wool OR COTTON blankets, jute rugs, sheepskins, cushions, lighting and wooden outdoor furniture for everyone.
We can offer you a bed configuration that would suit.
WILL I BE WARM ENOUGH IN THE TENT?
THE TENTS ARE COSY, AND WITH NATURAL BODY HEAT, THE CANVAS HOLDS IN WARMTH. IN THE COOLER MONTHS WE PROVIDE EXTRA WOOL BLANKETS.
IF YOU ARE WORRIED YOU'LL STILL BE COLD YOU CAN HIRE AN ELECTRIC OIL HEATER (ON OUR EXTRAS PAGE) AS LONG AS YOU ARE ON A POWERED SITE.
CAN I BRING MY DOG?
Unfortunately, as much as we are in love with dogs, we have had to say a blanket no to glamping pets as it hasn't been positive for us in the past.
We can recommend Margaret River Pet Retreat http://www.margaretriverpetretreat.com if you think THIS would suit you and your fur baby.
what is the booking process?
first have a look at our tents page, to decide on what size tent would suit you.

next click through to our locations page, and look through the different locations we set-up at ( CAMPSITE FEES ARE INCLUDED ).

once you have decided on where you would like to glamp, click the 'book now' link in that location section.

from our booking page you can check availability and book your adventure.

included in our price is bed/s for two people.

after selecting your dates, add any extra beds you may need, and any extra comforts you may like.

continue through to checkout to pay for your holiday.
DO I have to book the campsite?
No. We book it for you.
Are the campsite fees extra?
No. We have included them in the price.
Can i book for one night?
Unfortunately, we have a two minimum at this stage.
WHy can't i book in winter?
We temporarily stop operating from 1 July to 1 September due to the wet weather as we experience too much difficulty drying tents.
what facilities are there at the campsites?
The facilities at each of campsite are safe and well catered for with good communal toilet and shower ablutions, camp kitchens and bbqs.
each have parking
national park campgrounds offer more limited facilities: no showers, un-powered sites and long-drop toilets. you are also required to bring your own water. however the bbq's, covered camp kitchen areas and the toilets have all been updated in the last two years. in addition, these campgrounds, in our opinion, offer some of the best glamping experiences in the south west.
can i have a camp fire?
camp fires are only permitted outside of a fire ban. this normally runs between November and may.
having a campfire also depends on the individual campsite policy. some allow individual fire-pits and others have communal fire-pits only.
DPAW national park campgrounds have their own permanent individual pit-fires.
you can find fire-pit hire and bags of wood+kindling, matches, fire starters and marsh-mellows on our extras page.
Are there powered sites?
most campsites have powered sites: Prevelly, gracetown, taunton farm, yallingup, hamelin bay and big valley campsites.
dpaw national park campgrounds and fair harvest do not.
you can find solar power pack hire - for charging devices only - on our extras page if you think you will need it.
HOW DO I know which LOCATION i will like?
all the campsites we set up at are great places to stay for different Glamping experiences.
They are all within the area of the stunning Margaret River Region wineries and tourist attractions.
Please take a look at the location page, have a browse and if you have any questions then feel free to get in touch.
can i book a tent for a campsite other than the ones you offer on your website?
We set up at all the campsites in the region from yallingup to hamelin bay.
if it is not included in our list on the locations page please get in touch via our contact page.
You can book for any other campsite within a 50km radius of Margaret river.
for busselton we apply a $65 travel fee. you will need to book your own campsite and send through the relevant confirmation details.
We travel further afield for large bookings, for example, parties, weddings and special events (200km maximum, travel fees apply).
If you have something in mind, please go to our events page.
How many tents do you have?
We are a boutique Glamping business with a maximum of 20 tents.
Can i book for one night for my event?
yes you can.
How far do you travel for an event or group booking?
Travel is restricted to 180km - 2hrs to venue.
Travel fees apply and can only be calculated once we know tent numbers and your requirements and location.
Do you offer a discount on a group booking?
Yes we offer 10% on six tents or more.
How do I book a large number of tents?
please get in touch via our contact page with details of your booking and we can help you with more information and prices.
I'm organising an event, what do you offer?
please get in touch via our contact page with details of your event and we can hep you with more information.
Like what you see?
Follow and like us on